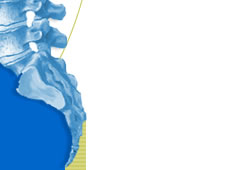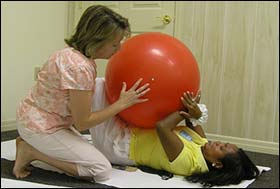 Participants Teaching and Practicing
Isometric Abdominal Strengthening (Level 1)
In this two day course, Sara presents a comprehensive approach to the management of persons with osteoporosis, osteopenia, and postural problems which is also useful for spinal stenosis and back pain. Included is regularly up-dated information on definitions, pathology and epidemiology of osteoporosis. The program includes a complete patient assessment, site-specific exercise program, postural correction, balance, gait, body mechanics during activities of daily living, use of foam rollers for balance and core strengthening, scapular stabilization exercises with resistance band, information on use of treatment modalities as they pertain to osteoporosis, and guidelines for advanced exercises (e.g., in the gym, Yoga, Pilates etc.) Therapists who take this course can then give good advice to patients seeking information about safety in movement in environments other than the physical therapy clinic. This course has been approved for CEU's in many states and has been taught at both APTA Annual Conference and Combined Sections Meeting as a pre-conference course. Contact us for information on CEU's in your state.
Upcoming Level 1 Workshops
Jan 11 - 12, 2014
 
PHILADELPHIA PA
 
Register

LOCATION: Courtyard Marriott Philadelphia Downtown, 21 Juniper Street; Philadelphia, PA 16107 215-496-3200 -- Across the street from Ben Franklin (on top of City Hall!) and within very easy walking distance from the Reading Terminal Market http://www.marriott.com/hotels/rewards-points/phldc-courtyard-philadelphia-downtown/

Jan 18 - 19, 2014
 
NEW YORK CITY NY
 
Register

COURSE LOCATION: Feldenkrais Institute, Chelsea Arts Bldg 2nd Flr, 134 W. 26th St; http://feldenkraisinstitute.com/the_institute/contact_us Suggested Hotel http://www.ihg.com/holidayinn/hotels/us/en/new-york-city/nycvc/hoteldetail

Feb 8 - 9, 2014
 
LAS VEGAS NV
 
Register

COURSE LOCATION: Spring Hill Suites Las Vegas Convention Center, 2989 Paradise Road, Las Vegas NV http://www.marriott.com/hotels/travel/laspr-springhill-suites-las-vegas-convention-center/ 702-433-5880; Hotel Room Rate $129.00

Mar 1 - 2, 2014
 
Denver CO
 
Register

Course will be taught by Deb Gulbrandson PT with Sara Meeks appearing via Skype for Q&A

Mar 8 - 9, 2014
 
WINSTON-SALEM NC
 
Register
Mar 22 - 23, 2014
 
PRESCOTT AZ
 
Register

COURSE LOCATION: Hassayampa Inn 122 E. Gurley St, Prescott AZ This Hotel is on the National Register of Historic Places and located in downtown Prescott 928-778-9934 800-322-1927 www.hassayampainn.com

Apr 26 - 27, 2014
 
SEDRO-WOOLLEY WA
 
Register

Sedro-Woolley is located in WA north of Seattle, south of Bellingham. Time of year is the Tulip Festival. This is a beautiful area for hiking and sightseeing so bring the family and make it a mini-vacation! HOST: http://www.unitedgeneral.org/

Jun 28 - 29, 2014
 
ARLINGTON VA
 
Register
Sep 11 - 14, 2014
 
Kripalu Center for Yoga & Health
 
KRIPALU
This seminar is designed primarily for the physical therapist and physical therapist assistant; however, the information in this seminar is highly applicable to occupational therapists, certified occupational therapist assistants, other medical and exercise professionals including Yoga and Pilates teachers. Contact us for more information concerning your specialty area.

Back: Seminars