Osteoporosis is occurring in epidemic proportions around the world in children, young adults, the elderly, men and women. Rehab professionals regularly see patients with osteoporosis in their treatment settings; yet, they seldom get osteoporosis as part of the patient's diagnosis. And it frequently occurs silently until a symptomatic fracture occurs.*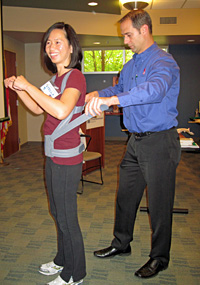 Participant Being Fit with Spinomed Brace
Safe management of this condition is imperative both from the standpoint of preventing fracture in the patient population and also from the standpoint of a reduction in the financial impact to the patient and to society. When a patient sustains a vertebral compression or hip fracture, quality of life changes dramatically and the mortality rate and costs are very high.
In this course OSTEOPOROSIS: A Comprehensive Treatment Strategy, an innovative, effective, S.A.F.E.**, site-specific comprehensive program for Physical Therapy management of the patient with osteoporosis is presented. All levels are continually updated with the latest literature and information on bone health.
The therapist who completes this course will be able to identify an at-risk population in the treatment setting, will be able to treat safely and according to identified Patterns of Postural Change© and will be able to make appropriate referrals as indicated and necessary. They will also be able to guide patients in appropriate movement choices in the gym and other exercise settings.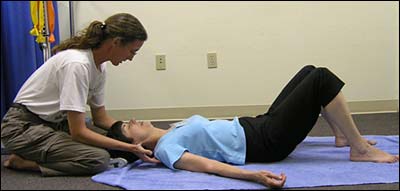 Participants Teaching and Practicing Shoulder Press Exercise (Level 1)
Testimonial From a Level 1 Course Participant Boston 2012

Finding you, your method and your dream has given me a core turn to
"When in Doubt, Don't" "Err on the Side of Caution" "Prevent the Next Fracture"

Bob Rossilli, Certified Fitness Trainer, Senior Fitness Trainer - Kings Park NY

Back: Level 1 - Osteoporosis: A Comprehensive Treatment Strategy

Back: Seminars