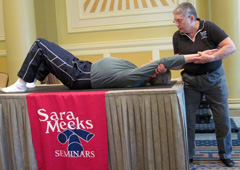 Sara Demonstrating Arm Press Exercise
Level 1 Baltimore 2012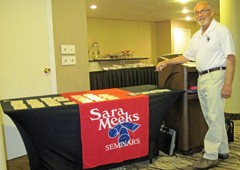 John - Ready for Registration and Breakfast
Level 1 San Diego 2012
These highly experiential and interactive seminars are designed to educate the health and exercise professional, with regularly up-dated evidence, on the epidemiology, pathology and sequelae of osteoporosis and to give the clinician practical information that they can use in their clinics the very next day. The Meeks Method, a comprehensive 12-point approach to the physical therapy management of patients with osteoporosis, is an evidence-based, SAFE and therapeutic movement program adaptable to all levels of care and all age groups. It has been shown to be useful in the care of patients with back pathologies such as spinal stenosis, spondylolisthesis, and degenerative disc disease among others. Learning to move from the bones, with safety and therapeutic intent for the bones as the focus of movement, and with an optimally-aligned spine maintaining the natural spinal curves will change both the way YOU move and teach others to move.
These seminars are designed primarily for the physical therapist and physical therapist assistant; however, the information is also highly applicable to occupational therapists, certified occupational therapist assistants, other medical and degreed exercise professionals as well as Yoga and Pilates teachers. Level 3 is primarily for Physical Therapists. However, depending upon circumstances and the therapist's involvement with The Meeks Method, Occupational Therapists, Physical Therapist Assistants, Occupational Therapist Assistants, Yoga and Pilates Teachers, and Exercise Professionals may be welcomed into the Level 3 course. Contact Sara Meeks Seminars for details.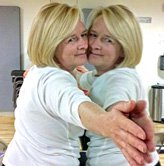 Patty Doing Standing Spinal Twist
Bone Camp 2012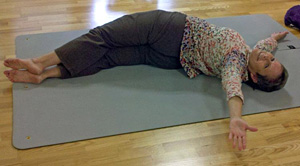 Susan Doing Mermaid
Bone Camp 2012
Focusing on the physical practice of Yoga (Asana,) with classical Yoga postures, these experiential seminars, which are intended for the education of Yoga teachers, health and exercise professionals, emphasize safety and bone strengthening for persons with osteoporosis. Learning to move from the bones, with a focus on safety for the bones, and with maintenance of optimal spinal curves brings a new dimension into Yoga practice that will profoundly change the way you move and teach others to move. For a more complete experience of Yoga, these seminars include experiences of breath, meditation, introspection and sharing, chanting and dance.