PRE-REQUISITES: LEVEL 1 SEMINAR and LEVEL 2 SEMINAR
This two-day course is limited to 12 PT's, OT's, PTA's, COTA's, and other Exercise Professionals. Call us in advance to discuss participation in this course. In this course, 2 participants receive a complete assessment from the other participants and from Sara Meeks and are instructed in the basic exercise program, designed specifically for them. Two patients are assessed and started on the program. Also included in the course is updated relevant research material and new exercises designed for safety in the patient with osteoporosis. The course ends with a brainstorming session on how to get the message of safe movement out into both professional and public domains.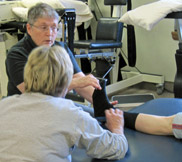 Sara Meeks explaining details of foot
positioning in Leg Lengthener Exercise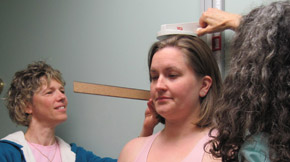 Level 3 participants measuring
Wall-To-Tragus and Body Height on Stadiometer
This seminar, Level 3 - Therapy for the Therapist, is limited to 12 participants. Participation in this course by professionals other than Physical Therapists and Occupational Therapists must be cleared by Sara Meeks. Please contact Sara Meeks Seminars for details.

Back: Seminars